FOXY FEST: FIGHT FOR YOUR RIGHT TO PARTY!
We may be known for our waxing and laser hair removal, but last month, we celebrated something different! March started off with a bang with International Women's day and in celebration, each Foxy Box location across Canada participated in raising money for a local charity of their choosing that is near and dear to their hearts. 
Our yearly Foxy Fest celebration is held during Women's Week to recognize the women's rights movement which brings attention to issues such as gender inequality, lack of reproductive rights, and violence and abuse against women.
This event also has us recognizing other marginalized groups such as BIPOC, the Indigenous, and LGBTQ2+ friends. We strive to be an inclusive space both inside and outside of our shops and were so excited to have everyone there to help us celebrate that we all deserve to be included and respected. Thank you to everyone who came out to the events or supported with donations as well as the volunteers, fantastic performers, and generous sponsors. Thanks to all of you, we were able to raise over $8000 collectively this year to date!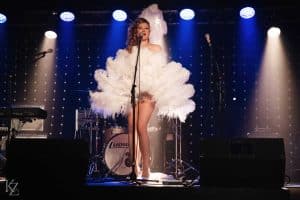 We're Stronger Together

We're Stronger Together is one of our core values at Foxy Box which is why it's important that we do our part to support the communities that we live in.  A few shops had a live party with performances by talented artists like burlesque dancers, dance groups, bands, drag queens, and comedians. Our generous sponsors gave gifts and swag bags to auction off and gifts to give to the crowd. Some of our stores opted for in-store events with donations and draws available for customers to bid on to win fun gift baskets of their choice. But regardless of the event being big or small, everyone had a great time and were able to raise some much needed funds for some very awesome organizations.
To quote one of our Franchisees; 'This was so much more than a fundraiser for us. We wanted to raise funds, but also awareness of the importance of maternal care. Our Foxy Fest event allowed us to help spread the word on an organization that is really important to our community while having a blast doing it.' – Stephanie,  Kamloops Foxy.  
Community Is Everything!
Foxy Fest reminds us that we could not have done any of this without YOU and the support of our community. While it is an awesome party where we celebrate love and life, it is also an opportunity for us to raise awareness and give back. We thank every person who attended or supported their local Foxy Fest and can't wait to see you in March 2024 for a bigger, badder and unstoppable celebration of love and awareness! 
From Courtenay to Toronto, here are some of the awesome charities dear to our hearts that we were able to support: 
Foxy Box is not only the top destination for the best waxing and best laser hair removal, it is also a space where everyone can feel welcome. We strive to always be an inclusive space regardless of age, gender identity, sexuality, religion, race, or size. Every body is a Foxy body and we pride ourselves on being a place where everyone can come to be their most foxy selves. For more information about Foxy Fest or how you can be involved in your local event, head to our Locations page and get in touch with the Foxy Box closest to you.